Performance Animations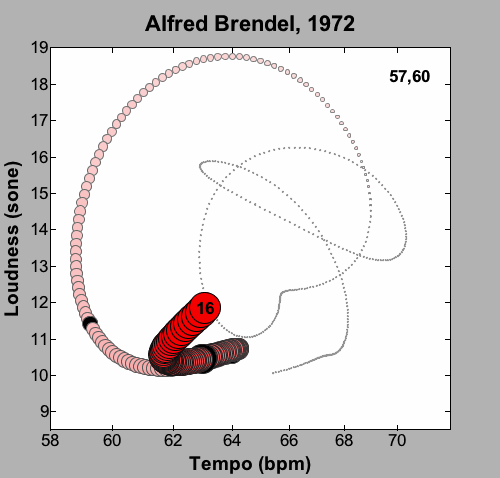 aka as "The Performance Worm"
Relevant papers
Jörg Langner & Werner Goebl (2003).
Visualizing expressive performance in tempo-loudness space.
Computer Music Journal, 27(4), 69–83, doi: 10.1162/014892603322730514.


Dixon, S. E., Goebl, W., & Widmer, G. (2002).
The Performance Worm: Real time visulisation based on Langner's representation.
In Proceedings of the 2002 International Computer Music Conference. Göteborg, Sweden, pp. 361–364.


Dixon, S. E., Goebl, W., & Widmer, G. (2002).
Real time tracking and visualisation of musical expression.
In C. Anagnostopoulou, M. Ferrand, & A. Smaill (Eds.), Proceedings of the Second International Conference on Music and Artificial Intelligence (ICMAI'2002), Edinburgh. Berlin etc.: Springer, pp. 58–68.
Play and explore the worm animations as HTML5 Videos:
Or download the (original and uncompressed) animations in QuickTime format, dating back to 2001:
Frédéric Chopin: E-Major Etude, op. 10, No. 3


Franz Schubert: G-flat-Major Impromptu, D. 899, No. 3


Page created on 12-July-2002