Live-Electronics Workshop at mdw-Vienna (10.-13.10.2023)
Written on September 29th, 2023 by AH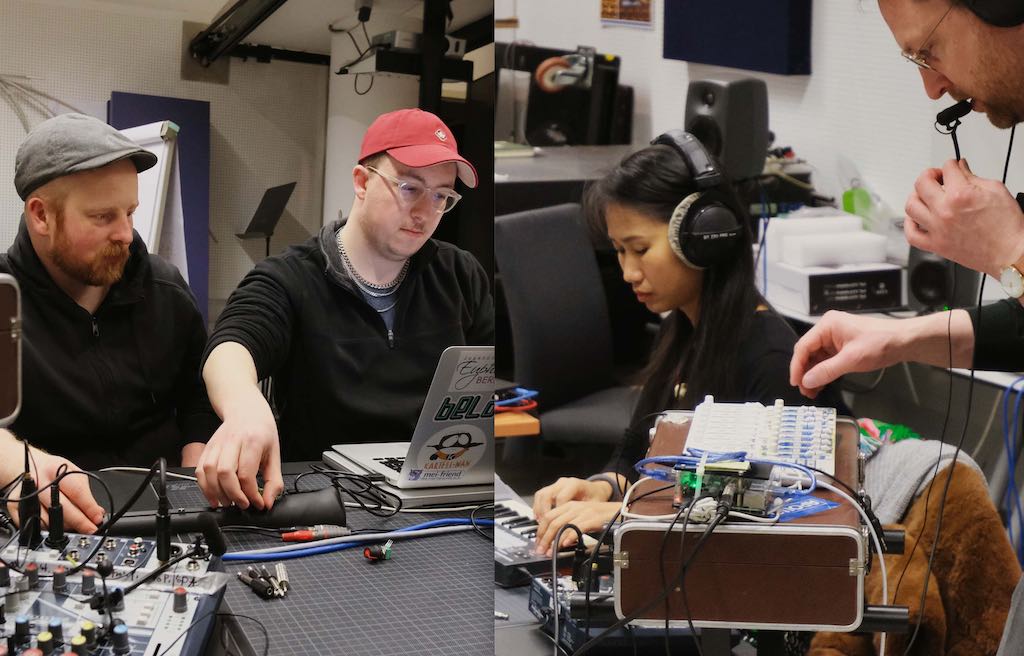 From 10.-13.10.2023 we will hold a live-electronics workshop at mdw within our PEEK 'Études for Live-Electronics' Project. Workshop Presenters will be:
Workshop Call:
Title: Live-Electronics Workshop: Perform, Compose, Research and Innovate
The Live-Electronics Workshop is a 4-day event that focuses on the intersection of performance, composition, and artistic research in the field of live-electronics. The workshop will be held at mdw and culminate in a concert evening at the Klangtheater/Future Art Lab. Participants will have the opportunity to expand their creative boundaries, learn new techniques, and connect with fellow artists and practitioners in the field.
Goals:
Acquire insights into composition techniques and the fusion of traditional Vietnamese instruments with live-electronics.
Perform in the mdw Future Art Lab or compose for live-electronic performers (LEP).
Build live-electronic setups and harness their creative potential.
Encourage performers to expand their repertoire and composers to explore new approaches for live-electronic performances.
Foster artistic growth, exploration, and innovation in the field of live-electronics.
Method
Each day will commence with a lecture recital featuring the workshop presenters. Participants will then collaborate in smaller groups on specific projects, including:
• Rehearsing and performing new pieces by Dustin Zorn and Luong Hue Trinh • Reviving John Chowning's computer music composition 'Stria' through live performance • Participating in a composition project for Dan Bau and live-electronics • Building live-electronic setups, providing hands-on training and sharing valuable insights
Target Group
mdw Students – The workshop is open to individuals from all backgrounds who are interested in live-electronics. The target group includes:
Performers: Musicians, sound artists, and live-electronic performers who want to expand their repertoire and enhance their skills.
Composers that want to explore new approaches and techniques for live-electronic performances and create own pieces.
Artists and practitioners in the field of live-electronics
Presenters:
Luong Hue Trinh: Gain a unique perspective as Luong Hue Trinh shares her approach to combining traditional Vietnamese instruments with live-electronics.
Dustin Zorn and Alex Hofmann: Explore a new artistic research practice, where you'll live-perform algorithmic tape pieces, repurpose electronic instruments, and expand your repertoire.
Tim-Tarek Grund: Find assistance with HCI, programming, and sensors, and enhance your technical proficiency.
Be part of the mdw-based FWF-PEEK project "Études for Live-Electronics" and shape the future of live-electronic music!
Registration To register, please submit the following information:
Full name
Contact details (email, phone number)
Short CV (background and experience)
Short motivation letter (why are you interested in participating in this workshop)
Application should not be longer than max. 1 page in total.
Limited capacity: 8 participants (full time commitment 10.-13.10.2023)
Please send your registration to hofmann-alex(at)mdw.ac.at by August 1st.
Timeframe (preliminary):
Tuesday 10.10.2023 till 12.10.2023 two blocks each day from 10:00 AM – 1:00 PM & 3:00 PM – 5:00 PM (Workshop)
Friday 13.10.2023 from 10:00 AM – 8:00 PM: Showcase Concert (6:00 PM) including Soundcheck and Setup
Location
mdw – University of Music and Performing Arts Vienna (Room: M0107)
Anton-von-Webern-Platz 1 1030 Vienna