Workshop at Csound Conference 2023
Written on November 5th, 2022 by AH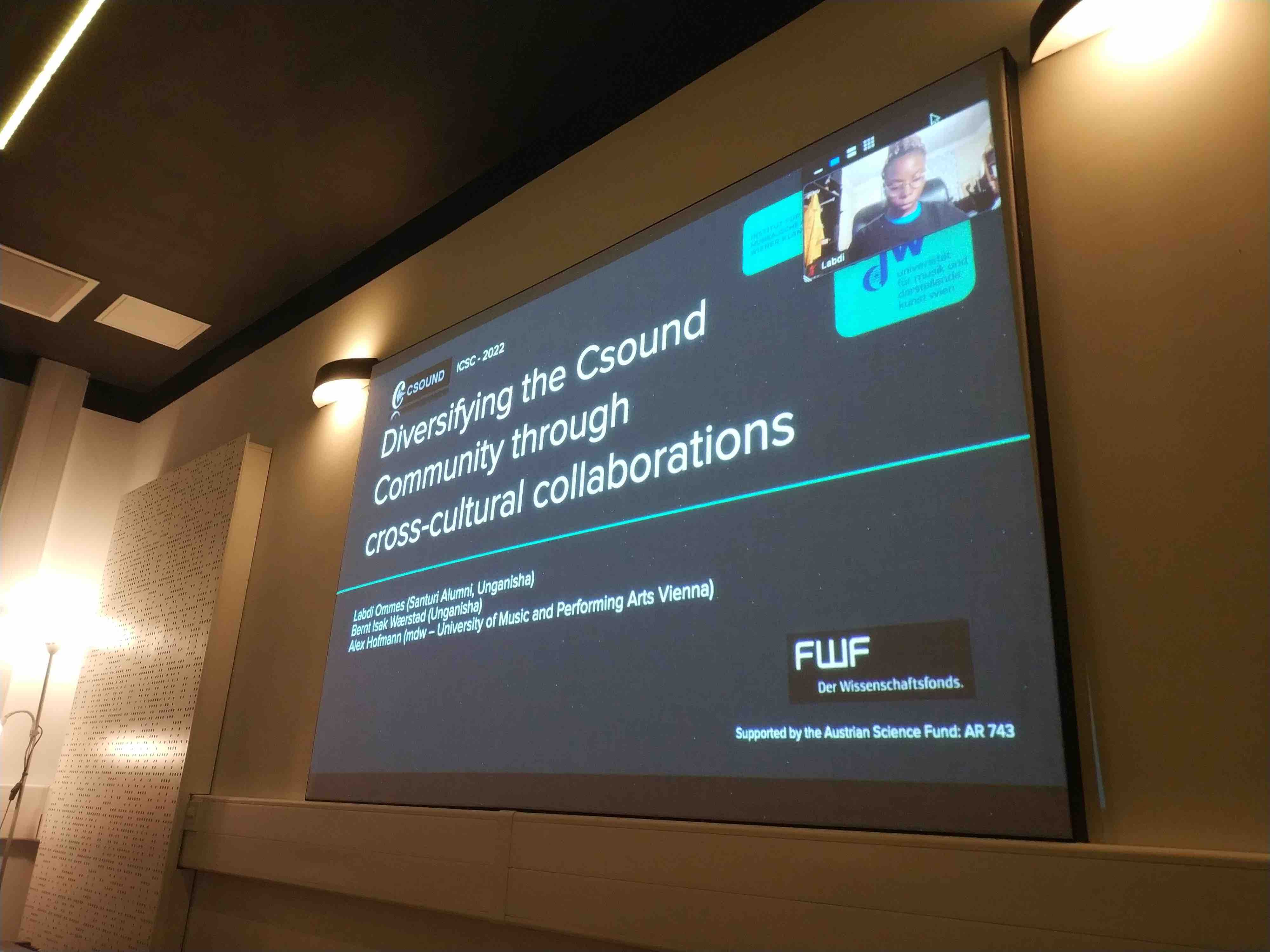 As part of the ICSC 2022 conference at TUS Midlands (Irland), together with Labdi Ommes, and Bernt I. Waerstad we will present a workshop on "Diversifying the Csound Community through multi-cultural collaborations".
This workshop aims at discussing and exploring the artistic possibilities of Csound by actively reaching out to a more diverse community. First experiences of collaborations with musicians from Europe and Africa will be reported, such as an ongoing collaboration with Santuri East Africa/SEMA (Santuri Electronic Music Academy), Sim Sima and Goethe Institute in Nairobi, Kenya. That involves artistic collaborations and workshops that provide access to Open Source tools like Csound. A showcase example of three different collaborations between Bernt and Labdi will be shown, including the pop-duo Unganisha, the stage show Mamarina and the artistic research project Co-Creative Spaces. A connected concert presentation where the workshop presenters will showcase artistic results from an ongoing collaboration is foreseen.
We think it's important that the Csound community as a whole takes part in discussing and reflecting on this topic. How can we involve musicians from diverse cultural backgrounds? What are the most common hurdles in establishing creative partnerships? How can we improve the likelihood of successful outcomes? How can different communities work together? What would be the communities to reach out to? How to reach multi-cultural communities in your local area? These are some of the questions that will be discussed at the workshop.
The workshop is open to participants with or without Csound experience, and participants are invited to either report their past experiences or to discuss ideas for collaborations. Funding:
This research was supported by the Austrian Science Fund (FWF) under the grant number AR743.
Workshop presenters:
Labdi Ommes (Santuri Alumni, Unganisha; Link)
Bernt Isak Wærstad (Unganisha; Link)
Alex Hofmann (mdw; Link)
Group photo of the 6th Csound Conference at TUB, Athlone, Ireland.